Big Stories, Small Towns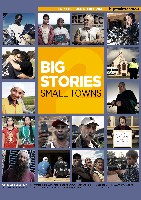 Big Stories, Small Towns (
www.bigstories.com.au
) is an acclaimed multi-platform documentary that gathers heart warming local stories for a global audience. Local Stories told with global impact.
At the heart of Big Stories is collaboration between communities and filmmakers in residence. Stories are made with not about communities. This is a unique model of community engagement and participation through media and an opportunity for the rich repository of local stories found in and around small towns to be told with global impact.
Far from tales of rural dysfunction and decay, Big Stories focuses on those caring for and creating their own community. From the Longriders Motorcycle Club in Murray Bridge, the Ngarrendjeri community of Raukkan on the shores of Lake Alexandrina, the Men's Shed in Port Augusta to the Tampuon people of Ban Lung on the edge of the jungle in Northern Cambodia, Big Stories aims to connect local stories to build a diverse and inspiring global portrait of country life.
Director(s):
Jeni Lee, Sieh Mchawala, Martin Potter, Koam Chanrasmey
Writer(s):
Martin Potter
Cast:
Various
Release Date:
2011 &nbsp
Keyword:
big stories, small towns, documentary, online documentary, website, Australia, C
Target Age:
25-65
Category:
media
Documentary:
yes
Language:
English
Reviewer's Name:
Martin
Review:
http://www.sbs.com.au/documentary/blogs/view/id/120897/t/Big-Stories-Small-Towns
Purchase:
http://trove.nla.gov.au/work/37984784