Butterfly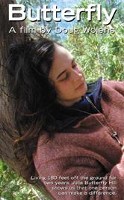 If this film does make you want to stand up and take action about some cause, any cause, you believe in, then you are in a deep snooze.
Julia Butterfly Hill braved harsh elements, condescending press, lack of creature comforts, macho butthead men and conflict within her fellow group to make her stand.

In the end she fought the fight or truth and justice and made an enormous statement. Inspiration!
Director(s):
Doug Wolens
Writer(s):
Doug Wolens
Cast:
Julia Butterfly Hill
Release Date:
2002 &nbsp
Keyword:
Documentary environment cause action heroine trees
Target Age:
13 to 99
Category:
Make Selection
Documentary:
yes
Language:
english
Reviewer's Name:
bardy
Review:
http://www.butterflyfilm.net/
Purchase:
http://www.amazon.com/exec/obidos/redirect?tag=moviesthatmat-20&path=tg/browse/-/404272
When using above purchase link, type the movie name in Search Box that will appear, and select DVD or VHS.