From One Blood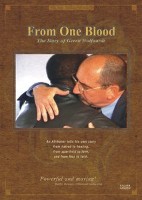 Afrikaner Gerrit Wolfaardt was born into prejudice. Everything he had been taught since childhood–from his family, his church and his culture–told him that apartheid, or separateness, was right and natural. He became a self-proclaimed disciple of Hitler, and hatched a diabolical plan to rid South Africa of the 'Black Danger.'

His ideology was challenged by Celeste, who later became his wife, and by the book Cry the Beloved Country. His search for truth led him to question beliefs that had been passed down from the past. In this documentary, Gerrit shares the amazing journey that resulted in his radical transformation. Also included are scenes from Final Solution, a feature film based on his life.

Today, Gerrit takes the message of racial reconciliation to people in the United States and South Africa. He and Celeste live in Colorado; they have three children.

Approx 45 min.
Director(s):
Chris Rogers
Writer(s):
Chris Rogers, Gary Wheeler
Cast:
Gerrit Wolfaardt
Release Date:
2004 &nbsp
Keyword:
South Africa Apartheid oppression racism forgiveness freedom
Target Age:
12+
Category:
freedom
Documentary:
yes
Language:
English
Reviewer's Name:
Brad
Review:
http://www.fromoneblood.com
Purchase:
http://www.amazon.com/One-Blood-Story-Gerrit-Wolfaardt/dp/B00062IDVU/ref=sr_1_1?ie=UTF8&s=dvd&qid=12