Stealing a Nation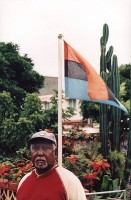 An extraordinary film about the plight of the people of the Chagos Islands in the Indian Ocean—secretly and brutally expelled from their homeland by the British government in the late 60's and early 70's, to make way for a huge American military base. The base, on the main island of Diego Garcia, was the launch pad for the invasions of Afghanistan and Iraq. The fight continues today for the people attempting to reclaim their island.
Director(s):
John Pilger and Christopher Martin
Writer(s):
John Pilger
Cast:
John Pilger
Release Date:
2004 &nbsp
Keyword:
Anthropology, Ethics, Geography, Human Rights, History, International Law
Target Age:
16 and over
Category:
human rights
Documentary:
yes
Language:
English
Reviewer's Name:
Lori P
Review:
http://us.imdb.com/title/tt0803890/
Purchase:
http://www.amazon.com/exec/obidos/redirect?tag=moviesthatmat-20&path=tg/browse/-/404272
When using above purchase link, type the movie name in Search Box that will appear, and select DVD or VHS.